Magic: The Gathering Kit Iniziale 2022 (ITA)
Tasse incluse

Gratuito per 200 punti
Spedito 24/48 lavorative


Guadagna 10 punti/0,50 €
(Ogni 1,00 € speso = 1 punto, 1 punto = 0,05 € sconto)
Il tuo carrello totalizzerà 10 punti che possono essere convertiti in un voucher di 0,50 €.
Acquista in sicurezza...
Pagamenti accettati: Paypal - Postepay - Carte di credito
Spedizioni in tutta Europa...
Corriere UPS/SDA - 24/48 ore lavorative
Usato 100% garantito...
Visita il nostro catalogo prodotti usati

Mandaci il tuo corriere....
Puoi ritirare il tuo pacco pensandoci tu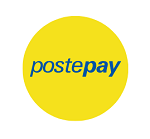 Acquisti Postepay
L'ordine si annulla in automatico se non viene saldato entro 24 ore
Magic: The Gathering rappresenta il capostipite di tutti i Giochi di Carte Collezionabili. Dalla sua uscita nel 1993, la creatura più celebre del grande Richard Garfield ha assunto una posizione di rilevo nel panorama ludico, e da allora non l'ha mai lasciata. Magic è stata l'avanguardia di ogni altro gioco di carte, dalla quale molti dei concetti tradizionali dei GCC hanno preso vita, e dal giorno dei suoi primi set non ha mai smesso di innovare e rinnovarsi. Forte di un team esperto e attento, quello di Wizards of the Coast, Magic: The Gathering rimane uno dei nomi principali sulla scena.
Uno Starter Set è senza dubbio il modo migliore per fare il proprio debutto nel mondo del Gioco di Carte Collezionabili più famoso del mondo. Un prodotto pensato per i neofiti, accessibile quanto basta per non mettere a disagio le nuove leve, ma stimolante abbastanza da garantire partite avvincenti e dinamiche. Procuratevene un paio, e sfidate i vostri amici, usateli come base per sviluppare mazzi più potenti, e mettete alla prova le vostre capacità combattive e creative.
Lo Starter Kit è una versione un po' diversa dal solito di questo genere di articolo. Questo, perché i mazzi forniti sono due, ed entrambi sono stati pensati per essere giocati immediatamente l'uno contro l'altro. Questo pacchetto contiene tutto il necessario per giocare, e senza timore di sbilanciamenti. Volete sapere cosa vi aspetta?
2 Mazzi da 60 carte ciascuno, ognuno con 5 carte rare!
2 Guide scatole porta mazzo
Una guida di gioco per Magic: the Gathering
Codici esclusivi per sbloccare i mazzi in Magic: the Gathering Arena